Summary
Windows and Apple computers have multilingual capabilities to make typing in other languages possible. The special characters, keyboard entry, and text direction are provided.
Other Software
Third party software programs still exist for some languages to provide easier input, dictionary, font options, and other features that may be better than those available on the computer. An example would be the Keyman software company offering many different language input utilities, including Yiddish.
Windows 11 and Yiddish
The instructions below are for enabling Yiddish on a Windows 11 computer without any additional software for basic typing capabilities. These are similar to the Windows 10 instructions, but the steps and visuals are slightly different during setup.
STEP #1 — Settings
From the Start menu, select Settings (the gear icon). This may also be at the bottom of your screen in the taskbar.
STEP #2 — Time & Language
Click on the Time & Language option in the left column as shown below.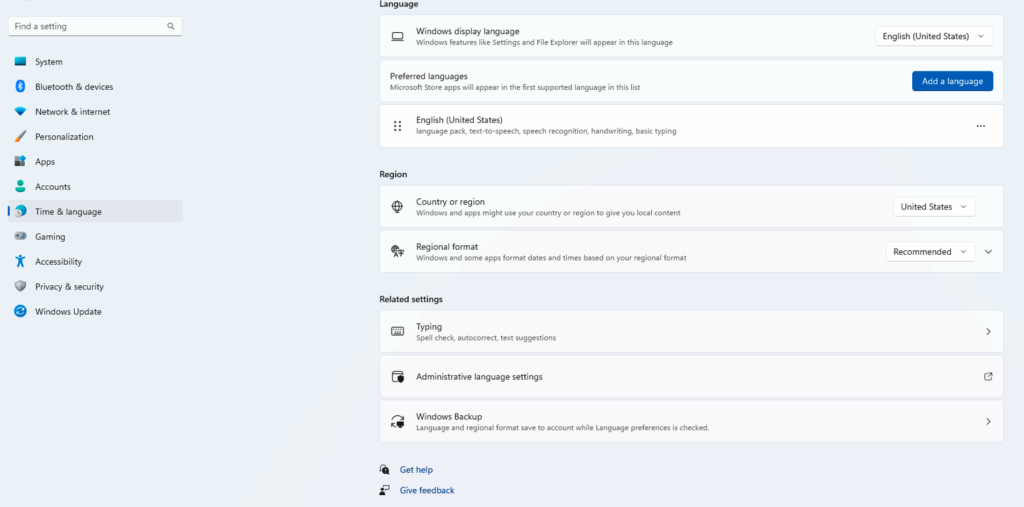 NOTE: The Time & Language settings help to adjust your computer to the regional differences such as various measurement standards, currencies, language, keyboard, special characters, as well as use and placement of commas or periods.
STEP #3 — Add a Language
Click on the blue "Add a Language" button to the right of Preferred Languages as shown above. When you clic that button, a list of available languages will be displayed as shown below. The list isn't entirely in alphabetical order and Yiddish is hard to find if you scroll to look for it, so use the search option as shown to bring up Yiddish.
Once Yiddish is added, you'll have the option to switch between English and Yiddish. It will show up in the lower right area of your taskbar near the date and time.