Introduction
When recycling, it is important to reset electronics and erase tech devices. Hard drives should be securely erased and wiped of all data. This requires some assistance getting started, but it is a simple process you can probably do on your own. With working computers, you can reinstall the operating system with a factory reset. Then use a utility program to erase unused space on the system. Below are general recycling resources for the Iowa City area and some national clearinghouse options.
Iowa City Government Website
Several locations in the Iowa City area offer electronics and appliances recycling. Recycling programs provided by the City of Iowa City/Iowa City Landfill and Recycling Center are available to residents and businesses within Johnson County, Kalona, and Riverside. Materials from outside of this service area are not accepted. [Learn More]
Amazon
"You can recycle your consumer electronics free of charge through an Amazon-approved Recycler. You can receive a shipping label at no cost which you can use to ship your electronics through any UPS pick-up point. All devices sent for recycling will undergo material reclamation by a licensed recycling facility. All identifying marks or personal information will be erased or destroyed before or during the recycling process." [ Trade-in Program | Recycling Program | Submission Form ]
Best Buy
At Best Buy, you can recycle up to three items per household per day. A list of categories can be found on the Best Buy website. [ Store Info | Recycling Info ]
Homeboy Recycling
"We are an award-winning social enterprise, offering comprehensive IT asset disposition, data destruction and electronics recycling services. We have handled millions of pounds of electronics from manufacturers, municipalities, and clients in financial services, health care, media, and other compliance-focused industries." [ Website | TED Talk ]
Microsoft
The following information sheet is from Microsoft. [Source | PDF]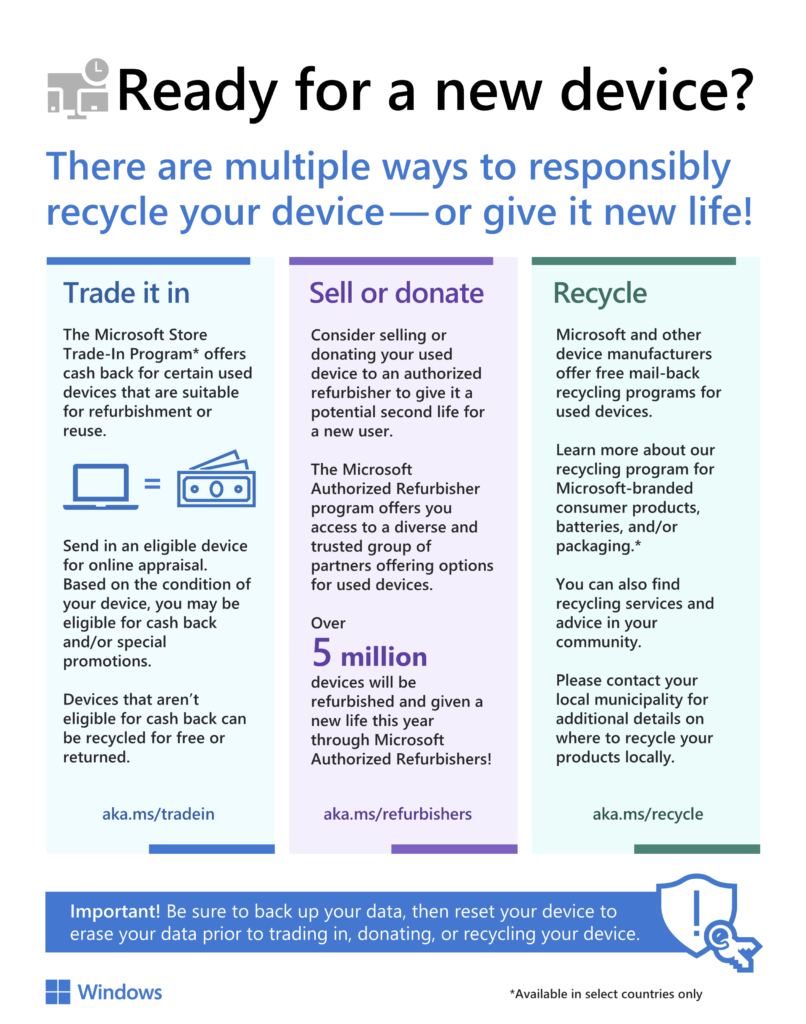 Staples — Tech Recycling
The Staples store on Riverside Drive is a recycling drop-off for the following items. [ Store Info | Recycling Info ]
Adapters & cables
All-in-one computers
Batteries, rechargeable only
Battery backup devices
Cable / satellite receivers
Calculators
Camcorders
CD / DVD / Blu-ray players
Coffee brewers (less than 40 lb.)
Computer speakers
Connected home devices
Copiers
Cordless phones
Desktop computers
Digital cameras
Digital projectors
eReaders
Fax machines
Flash drives
Gaming consoles
GPS devices
Hard drives
Keyboards & mice
Label makers
Laminators
Laptops
MP3 players
Mobile phones
Modems
Monitors (CRT, LED / LCD, plasma)
Paper Shredding (recycled at a cost per pound for shredding)
Printers & multifunction devices, also ink cartridges and toner
Routers
Scanners
Shredders
Small servers
Stereo receivers
Tablets
Video streaming devices
Webcams
Learn More — Videos
The videos below provide additional information about electronics recycling.
Business Insider (6 Jun 2021)
CNBC (26 Dec 2020)
Now This (4 May 2019)
Kabira Stokes (28 Jul 2015)