Summary
This document describes what to expect when using the State of Iowa website for recovering unclaimed property. If you live in Iowa or if you've ever lived in Iowa, you can use this process to determine if there may be unclaimed funds in your name.
When you search for available claims, a list of possible results will show. You'll be the best person to identify which ones are yours.
Each state has different programs for recovering money. It's best to use the official state websites rather than a third-party clearinghouse service provider.
STEP #1 — Visit Iowa Program Website
The property recovery program sponsored by the state of Iowa is called the Great Iowa Treasure Hunt found online at https://www.greatiowatreasurehunt.gov
Below is a visual of what the website home page looks like as of June 2023 on a desktop computer display. A mobile phone or tablet may look different. This is an image only for visual description. The links do not work for this example.
STEP #2 — Enter Name and Search
On the website, using the boxes provided in the top middle of the home page, enter your last name and first name. Then press the Search button.
STEP #3 — Review Results
There may be several pages of results showing people with your same last name. You will need to review the results looking for the city and address that are yours.
Since the search is state-wide based on your name, these other results will be showing.
For any claims that seem to be yours, those that list your name and previous address, you can request to claim those.
Once you've reviewed all pages of the list, and have selected all relevant claims, you can continue to the next step of filing claims.
STEP #4 — Provide Identification Information
You will arrive on a page with the title "Enter your Current Contact Information" where you will be required to enter your full name, email, phone, Social Security Number, current address, and a few other details. Then you can click the Next button.
You may be given a suggested address with an improved street name or zip code to meet USPS requirements.
STEP #5 — Electronic Signature
On this step, you will be on the page with a title "Electronic Signature & Preview Your Claim"
You will be required to acknowledge the accuracy of the information you've provided and type your name as a form of signature. Then click the Submit button.
STEP #6 — Claim Summary
On the Claim Summary page you will see this statement at the top: "You have completed the FIRST STEP in reclaiming your property." Keep this page open. You will be receiving an email from the state of Iowa with a PDF file attached that provides your claim details.
Notice the faint small print with a link you can click on to begin uploading the documents required to process the claim. This is shown below with a red arrow added to indicate the link text.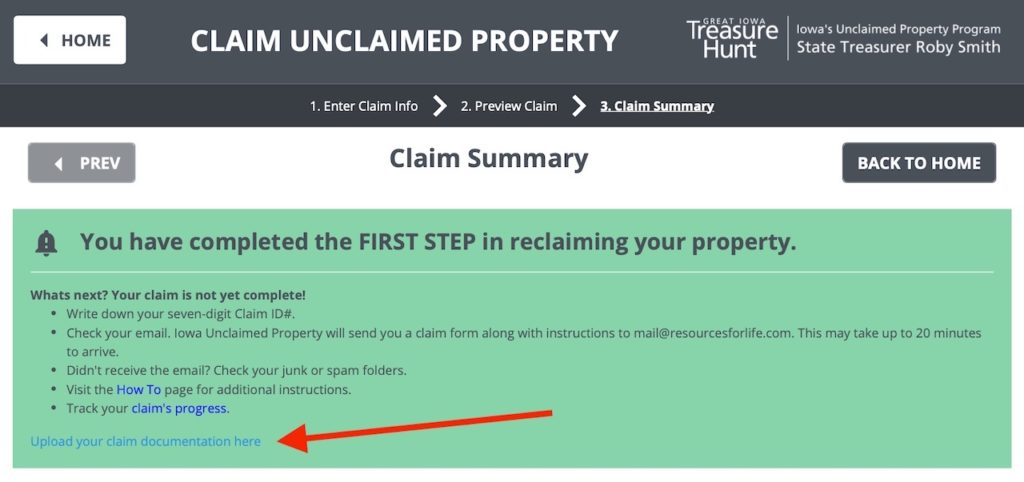 STEP #6 — Upload Required Documents
From the PDF file emailed to you, a list of required documentation can be found in Section C.
An example from the PDF is shown below. Your required documentation may be different than what is shown below.
STEP #7 — Wait for Processing
Once you have uploaded the required documents as described in Step #6 above, your claim processing will be underway. You can return to the state website and using your claim number it's possible to lookup the status of your claim(s).
Conclusion
These instructions are provided to assist people with the claim process since some of the steps may not be intuitive.
For questions or other support needs, use the official contact information on the state website — https://www.greatiowatreasurehunt.gov/app/contact-us