Summary
Sometimes an informative or interesting ad will show up on YouTube and you want to save the URL for that ad to view it again or share it with someone. When ads play on YouTube you can pause and play, but other functions like going back or saving the ad are not possible. This page describes how to get the website address (URL) for ads on YouTube.
Simple Process
For some ads, like with regular YouTube videos, you can right click and the option to copy the URL will show up as an option as shown in the image below. All you need to do is choose that option if it appears. Now you can paste the URL into the address bar of your browser, or paste it into an email to send someone. Programs such as Wondershare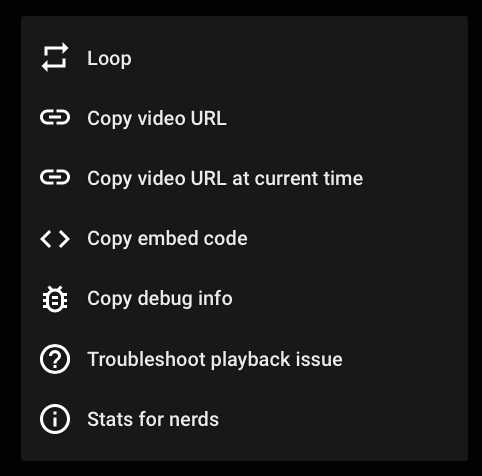 You can also paste the video URL into a program like AllMyTube by Wondershare (for Mac or for Windows) to download a video. Or use the more advanced UniConverter software for more options.
Longer Process
Sometimes when you right click on an ad, the only option available is "Stats for Nerds." The stats displayed include the Video ID which is the string of letters that usually appear in a URL. If you take the string of letters and paste them into a YouTube video address, the ad will load. It is the first string of letters in the top row shown below.
Here is a typical YouTube video URL represented as a shortcut — https://youtu.be/AbCdEfGhIjK
The 11 letters used in this URL example are just the first 11 of the alphabet, but an actual URL will have a random collection of upper and lowercase letters.
If you use the Video ID number from the Stats for Nerds information above, and replace the letters in the example above, you will have the URL for the video you want to watch again or share.
So, using the example here, the correct URL would be — https://youtu.be/dQw4w9WgXcQ
Examples of Use and Convenience
The ability to save an ad link can be convenient in the following situations:
FUNNY ADS — Some ads are funny and you may want to share them with friends or on social media.
LONG ADS — Occasionally a lengthy YouTube ad will begin playing and the initial 10 minutes of the ad will be filled with teasers to keep the viewer hooked until the end of the video which might be over 40 minutes long. With a link, you can load the actual video page to skip ahead and back to find just the information you want.
REFERENCE — Long informational ads may be useful to refer back to later.
Further Reading
An alternate version of these instructions are available in the document "Obtain Video URL for YouTube Ad" from 2 Mar 2023. [View]